Our vision for the Neighbourhood Plan is to create a vibrant, coherent community – a great place to live, work and relax! If you support this vision, please show your support and apply to register as a member.
Membership Benefits:
Occasional progress updates via email
Occasional event invitations via email
Notifications of workshops & surveys via email
Eligibility to join a working group
Eligibility to vote at the AGM
Application Form:
Hove Station Neighbourhood Forum (HSNF) aims to improve social, economic and environmental conditions in the Hove Station Neighbourhood area, particularly through the preparation and implementation of a Neighbourhood Plan. You can view our simple Privacy Policy >
Membership is free and open to:
residents
who live in the designated area (see map).
businesses and employees
who work in the designated area.
elected members
of Brighton & Hove City Council / East Sussex County Council.
Designated Area: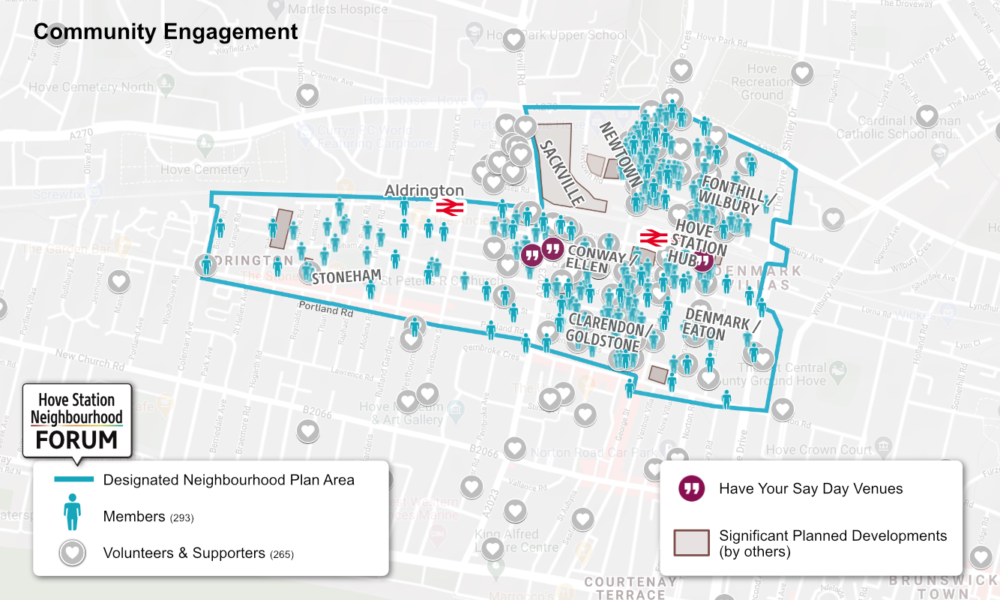 Privacy:
The information you provide will only be used by the Hove Station Neighbourhood Forum, for the sole purpose of creating a Neighbourhood Plan. It will not be shared with any other organisation other than, where necessary, entities working directly with the forum in order to achieve its community objectives.
This includes situations where we are required to disclose our membership list to Brighton and Hove City Council, other planning authorities or government departments in order to meet the requirements of the Localism Act 2011 and associated regulations.
Use of Cookies
We may ask you for age, gender or location-related information, solely for the purpose of ensuring that the Plan is representative of the community. This data may be compiled to provide evidence of due diligence. Any such information will be anonymised before being published.
^ Top of Page